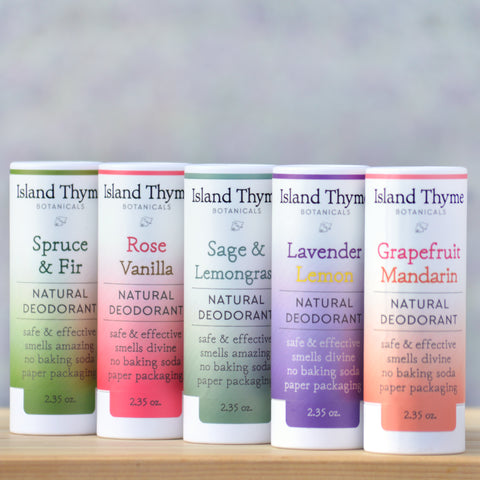 Deodorant Sample Set
All FIVE of our amazing new deodorants in one sample set.  Try all of the beautiful scents or share them with your whole family!
These ultra-gentle all natural deodorants are made with shea butter, coconut oil arrow root powder and magnesium. They are truly effective yet gentle on the skin and smell amazing.  And they come in biodegradable paper packaging!
No Aluminum, No Baking Soda and No Plastic!  
This means:  Safe, No Rash, and No-Plastic-Waste!
Ingredients: 
Magnesium Hydroxide, Arrowroot Powder, Coconut Oil, Fractionated Coconut Oil, Shea Butter, Cetyl Esters, Candelilla Wax, Essential Oils.
Awesome Product
Glides on easily, soothing to my skin, unlike the commercial products, earth friendly container, and Smells Awesome. I purchase one of each because I Enjoy the aromas of all them, and can't select a Favorite.
Post PCT armpit bliss💚
I discovered this brand after completing the PCT last September and, believe me, I needed freshening up! I purchased the Rose Vanilla and the fragrance brings me back, daily, to the sweet little town of Mazama, WA; the delicious bakery-every hiker's dream, and the amazing sense of accomplishment of living out of a backpack on one of the country's most beautiful trails for 5 months! The product helped clean up my prolonged hiker stench and now gives me nostalgia with every use! On top of all of that, I love that it comes in a paper tube and that I am supporting such a genuinely awesome business.
I will continue to spread the love all over my pits and am now spreading the love to others 💛 thank you so much, be well ✌️
Love these I use them and give as gufts
Great product
Neutralizes odor better than any other healthy/non-toxic deodorant I've tried. I went through a tube surprisingly quickly but still worth it to have something that works. And no plastic!