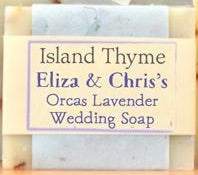 Custom Label
For wedding favors or promotional items, we can create a custom label for your event or cause. Please allow two weeks for processing time to accommodate your custom order.  
Price is per label design. For example, if you're buying 50 bars of one variety of soap, you just need one Custom Label. If you're buying 25 of one variety, 25 of another, and 50 lip balms (all the same flavor), you need 3 Custom Labels.
We kindly ask for a minimum order of $150 in product per custom label.