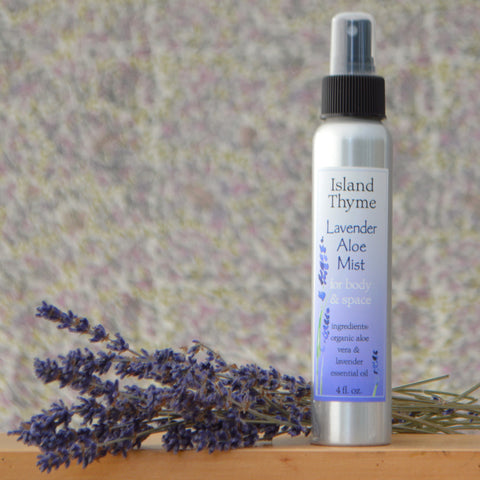 Lavender Aloe Mist 4oz
Oh so soothing and cooling on the skin. Especially great for after being in the sun.  Also can be used on your pillow to relax, in your car to refresh, or anywhere you want a beautiful calming lavender aroma. 4 fluid ounces.

Ingredients: Island Thyme Farm lavender distillate, organic aloe vera, lavender essential oil.
Obsessed
Lavender is my life. I'm basically a walking lavender sprig (especially now with all the Island Thyme lavender items I use everyday). I've been addicted to your lavender roll~on for the past couple years (best one I have ever used! Something about that PNW lavender!) and I've been obsessively using the mist on my body and hair multiple times a day. It's a great pick~me~up. It adds some hold and moisture to my wavy hair. And it just makes me smell and feel fantastic. Gonna order a few back ups. Maybe one day you can offer a bigger size for refills??? That would be awesome!
My favorite!
Just have to rave about this product - it is so beautiful and takes me to such a relaxing, open, natural place before bed. My skin love it. PS, lavender is amazing for calming itchy skin or burned skin - love it for that too
Thank you for making this product!
Love this product!
I use this every day … multiple times a day! I use it as a toner, body spray and on my pillow at night. It's so refreshing and comforting — can't recommend it enough!
Lavender Rose Mist.
I use it on my pillow and sheets. I love the scent and it helps me sleep.
Great product, amazing spray
Light enough to spray on after a shower keeps the mingees from biting. Relaxing to sleep. I spray my pillow and within minutes I'm asleep.
Thanks for your review Noreen! I'm so happy to hear that our Lavender Aloe Mist helps you drift off to sleep :)