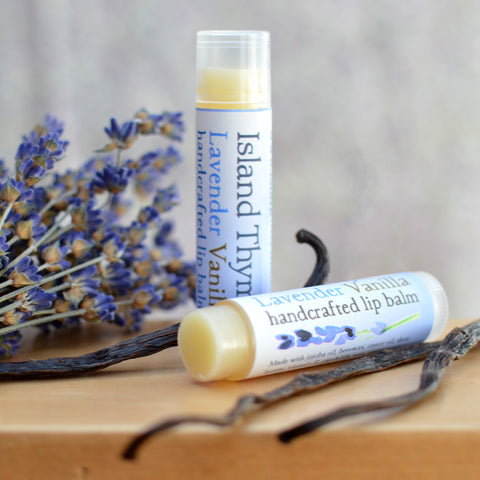 Lavender Vanilla Lip Balm
Inspired by our fun collaboration with Lavender Ridge Vineyards down in California, we could not help but want to perfect a luscious lavender lip balm.  The vanilla gives it a soft yummy base while the lavender gives it a nice amount of spark and brightness.  If you like lavender this is definitely worth checking out.  We are hooked on it ourselves.
And like our other lip balms, it soothes, protects your lips naturally without making your lips feel like they need more and more lip balm to stay moisturized.  Try it and you will likely see why our lip balms have such a loyal following :-)
Ingredients: Shea butter, beeswax, coconut oil, jojoba oil, castor oil, vitamin E, candelilla wax, evening primrose oil, vanilla flavor, lavender essential oil.
*Our Lip Balms are Gluten-Free
My new favorite lip balm!
This stuff is the best! I have a tube on me at all times. It's a great gentil scent and so refreshing.
Lip balm joy!
I love lip balm. I love lavender. Who doesn't love vanilla? I've bought this many times and have them stashed in various places around my home and purse so I always have some. It's subtle, creamy, calming, and I love it!
My absolute favorite. It is such a calming scent. Every time I use it I think of my time spent on Orcas. This is always my go to lip balm
My favorite lip balm, I use it every night before I go to bed. Leaves my lips feeling so soft and has a strong scent that lasts.
Yay! We're glad to hear that you enjoy our lip balms!
Wonderful lip balm!
Long lasting, emollient and rich lip balm with a lovely scent! My favorite lip balm of all time, Island Thyme lip balms keeps my lips moisturized and protected and are made from natural ingredients! Highly recommend!