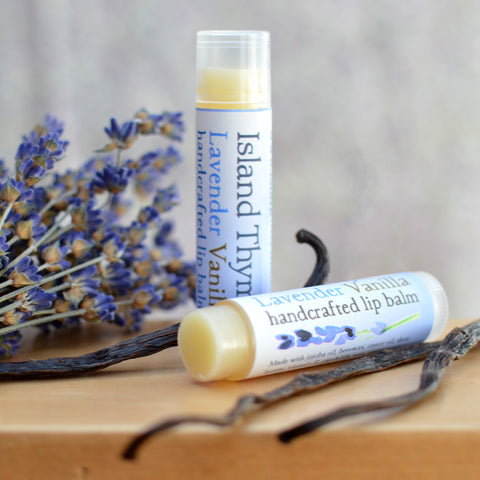 Lavender Vanilla Lip Balm
Inspired by our fun collaboration with Lavender Ridge Vineyards down in California, we could not help but want to perfect a luscious lavender lip balm.  The vanilla gives it a soft yummy base while the lavender gives it a nice amount of spark and brightness.  If you like lavender this is definitely worth checking out.  We are hooked on it ourselves.
And like our other lip balms, it soothes, protects your lips naturally without making your lips feel like they need more and more lip balm to stay moisturized.  Try it and you will likely see why our lip balms have such a loyal following :-)
Ingredients: Jojoba oil, beeswax, castor oil, shea butter, candelilla wax, coconut oil, evening primrose oil, vitamin E acetate, vitamin E tocopherol, lavender essential oil, vanilla flavor,  stevia.
*Our Lip Balms are Gluten-Free
The Calming Effect
I love this Lavender Vanilla lip balm. My mom was recently in the hospital and her nerves were causing her anxiety to go through the roof. I pulled a tube of this out of my handbag to give to her and watched as she enjoyed putting it on and then the subtle calmness that the lavender provided. Thank goodness I have a spare and a super easy way to order more.
HOLY GRAIL
After years and years and YEARS of trying all the lip balms and balms in general, I think I can finally say I have found the ONE. While I have staples that work well for me, after a few days my lips return to their permanently chapped state (it doesn't help that I pick at my lips if they are dry. It's a habit I have always had due to OCD, but it's much better than it was!) and I'm back to square one of switching all the balms in and out of the rotation. My lips love beeswax based balms. Most vegan lip balms lack the structure and moisture locking properties of a good beeswax balm. Honestly, beeswax is the ultimate in skin healing and hydrating. And the combination in this balm WORKS. Since using this balm for the last almost month, my lips have not been chapped (unless I pick them but that's my doing). This balm is a miracle. My lips feel soft and look so lovely. The lavender vanilla is fire. Perfect vanilla start that leads into the herbaceous lavender finish. I will be repurchasing this balm probably until the end of time.
My new favorite lip balm!
This stuff is the best! I have a tube on me at all times. It's a great gentil scent and so refreshing.
Lip balm joy!
I love lip balm. I love lavender. Who doesn't love vanilla? I've bought this many times and have them stashed in various places around my home and purse so I always have some. It's subtle, creamy, calming, and I love it!
My absolute favorite. It is such a calming scent. Every time I use it I think of my time spent on Orcas. This is always my go to lip balm